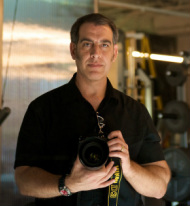 Matt has come a long way since his early days of photography and filmmaking, to include all phases of production. Matt founded his own production company, New Horizons Film & Video in 1982.

He has always had a unique visual perspective, a creative eye and an insatiable hunger for technology, which has allowed him to capture breathtaking and thought provoking images through still photography and cinematography. Coupled with his natural talent and ability, Matt has produced award winning projects, including commercials, corporate videos, shorts, documentaries and independent feature films.

Matt's ability to foresee industry changes through new technology developments and their capabilities, has allowed him to maintain his high standards and attention to detail in each project, regardless of size.

With his innate ability to work as a team player and bring insight into collaboration efforts, as well as the ability to meet deadlines and deliver high production value and quality, Matt has earned a solid reputation within the industry and with clients of all sizes, as a person you can trust with your project.

---